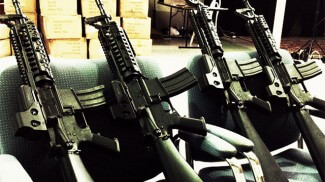 Greetings to the anti-zombie brigade! Today you and I are going to delve into the realm of the "carbine". Hey Bast, what in the hell is a carbine? Great question internet, and thanks for asking!! Carbines are typically a shortened version of an existing rifle that has been modified in order to provide a greater degree of maneuverability while maintaining a consistent ammunition requirement and performance level. What that means is you'll have a similar feel between a carbine and its rifle big brother version, with identical ammo, but better close quarter's performance. The notion behind these modifications is simply that full sized rifles, while providing excellent muzzle velocity and long distance accuracy, were ineffective in urban or trench warfare environments due to their dimensions. As a result, many full size rifles are now offered in a carbine version, giving the consumer the ability to decide which features are most desirable to them. From a zombie shredding perspective, carbines are simply top notch. What we are in search of in the event of a zombie outbreak will be a lightweight, reliable, versatile and accurate primary weapon for each individual. Carbines can provide precisely that, so let's take a look at some of the best and reliable carbines for the Zombie Apocalypse.

This bullpup semi-automatic 5.56 NATO carbine is one bad ass piece of firepower! Steyr has replaced the 20" barrel of the rifle with a 16" on the AUG A3/SA. You can still get the 20" barrel if you'd like and interchange them for additional muzzle velocity and increased long distance accuracy, which is cool. The AUG comes standard with a 30 round magazine, but can be upgraded to a 42 round capacity. This smooth shooting, gas-operated, semi-auto is a little slice of heaven that will rain down hell on a pack of zombies. Did I mention that it comes standard with a cleaning kit that packs into the butt stock? No excuses! Keep your weapons clean and they'll keep you alive.

This is a carbine version of the classic AR-10 (or M16) military rifle. Unlike its predecessor, the AR-15 is semi-automatic and fires a 5.56 NATO round versus the 7.62 NATO. The AR-15 offers as a standard various flash suppression devices, depending on the model you choose. This can be important in preventing zombies from zeroing in on your location from a distance due to your muzzle flash. The AR-15 also offers various options for mounting optics, from Picatinny rail mounts on the upper receiver of the carbine, to Picatinny rail mounts running the length of the receiver. These allow for the addition of just about any magnitude of telescopic scope or sighting device you could desire. The AR-15 also offers a carry handle with 300-600 meter hard sight built in. This carbine has been a favorite among law enforcement and military forces worldwide for nearly 50 years and for good reason. The AR-15 is reliable and lightweight as well as durable and potent, offering a standard 30 round magazine capacity.

These carbines are built to exacting military specifications from the lightest, most durable components available. The 7.62 NATO version offers a bird cage muzzle flash suppression system. This coupled with the gas-operated semiautomatic Koebl block provide a smooth shooting action as well as a reduction in recoil without sacrificing muzzle velocity. The Oracle comes standard with an A3-style flat top which allows for the implementation of just about any sighting system you can think of without much difficulty. It should be noted that this is a right hand ejecting carbine, which means lefties will be getting a face full of brass upon rapid firing of this one and therefore probably not their best option. This is a fantastic shooting weapon for righties (or the ambidextrous) however and should be considered one of, if not the best carbines available today.
All this talk about optic systems has got me wondering if my sights are still dialed in. I'm off to the range to find out!! Until next time, keep your head on a swivel or it may end up in a zombie buffet line.
Do you have any carbine recommendations? We want to hear it! Tell us in the comments below.
Other related articles you should check out:
Recommended 9mm Pistols
Recommended .45 Pistols
Recommended .22 Pistols
Recommended Shotguns
Recommended Rifles