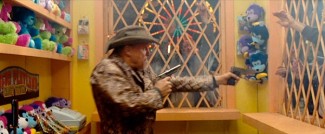 Last time we talked about the sidearm (or secondary weapon), we discussed the 9mm variety of pistol. Some folks have said "Well Bast, that's all well and good with the 9mm, but I've got big strong hands and wrists like tree trunks and I'd like to blow some big-ass holes in some zombies." This is a statement which I can appreciate. Therefore we'll address a handgun with excellent stopping power, a little more bang for your buck and consistently available ammunition –the .45 caliber pistol. The .45 is a pistol that really came into its own around the start of WWI, when it was selected to be the official sidearm of U.S. Army officers. I can't think of proving grounds more intense than the trenches of The Somme, The Ardennes forest or the Battle of the Bulge. The .45 was there for all of those and American battle since then. As a testament to its performance capabilities, the .45 has gone on to become one of the most respected firearms available today. Let's look at the best and most reliable .45's to kill zombies with.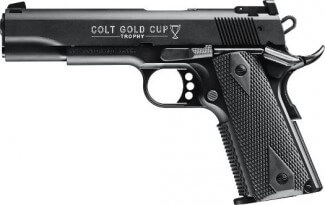 This .45 caliber pistol has been, and continues to be, one of the most reliable and effective ever made. As the name "1911" suggests, this firearm was originally adopted by the U.S. military in 1911 and has remained virtually unchanged since. The craftsmanship is that good. In fact, aside from a few aesthetic changes, the brand new models are almost identical to the originals. With that being said, if you can find an original that's been well cared for, you won't regret adding it to your arsenal. These guns are straight shooters with knock-down power and consistent reliability. The .45 caliber is border line when it comes to user strength requirements so, if possible, test fire one before you buy. The kick isn't overwhelming, but it's not light either. With extendable magazines, these pistols have a 10 round capacity (9 in the clip, 1 in the chamber).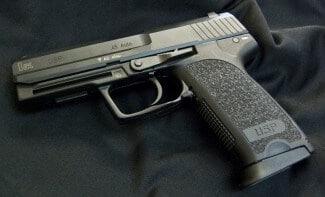 This is a modern take on an old favorite. H&K took everything you like about the 1911 and added modern composites construction for decreased weight and increased reliability. This gun was originally designed with the American market in mind, but it has become widely accepted internationally as an ultra-reliable, incredibly accurate firearm. H&K have utilized composite materials in basically any places they can while reinforcing high stress areas with stainless steel to give you strength where you need it without the weight where you don't. The USP (Universal Self-loading Pistol) utilizes a fantastic recoil reduction system which allows for comfortable shooting without too much kick or stress to the hands. The USP also has the capability to be modified to shoot either right or left-handed, which is a nice bit of versatility you don't see every day. This is also a great feature if you're considering shooting two of these bad boys at a time with one in each hand.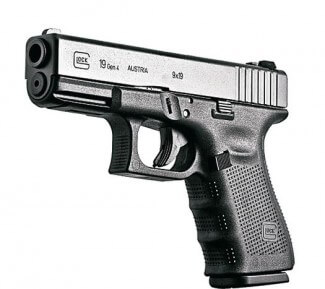 As we discussed in the 9mm article, the new Glock G4 series takes everything we like about Glock and tweaked it to be a whole lot more awesome. The G21 comes standard with 3 different sized pistol grips to comfortably fit just about any hand. The great composite technology provides low maintenance, lightweight durability you can depend on when you need it the most. The new G4 is utilizing a dual recoil spring assembly to reduce recoil while simultaneously improving accuracy and decreasing wear and tear on your sidearm. The Glock G21 is a standout performer on the range and in the field, with new grips which are comfortable with or without gloves, in or out of the rain. The G21 offers a 10 round magazine capacity, which goes right along with its lightweight design strategy. The lower round capacity keeps the pistol versatile and maneuverable in situations where quickness equates to survival.
Ok folks, that'll do for now. Tighten up your shooting gloves, clean your weapons and be prepared for anything. Until next time, I'll see you at the shooting range. Cheers.
Do you have any .45 pistol recommendations? We want to hear it! Tell us in the comments below.
Other related articles you should check out:
Recommended 9mm Pistols
Recommended Carbines
Recommended .22 Pistols
Recommended Shotguns
Recommended Rifles