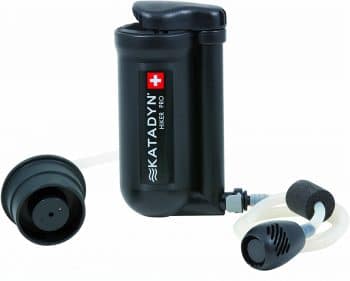 A powerful hand pump water filter is clean water on the go. Zombies wait for no one's thirst. If you think death by zombie horde is as bad as it gets, consider death by diarrhea. Drinking tainted water is no joke and in this SHTF setting the water will be worse than ever. Just because we are running from the Z virus doesn't mean that other bad parasites and viruses aren't lurking all around us.
By employing the help of a high-quality hand pump water filter, you are giving yourself the freedom to harvest water from virtually any source. The filter will add clarity to the water as well as trap the harmful pathogens. Of course, choosing the right filter is critical. You are looking for something that carries well, cleans up easy and is efficient.
There is no time to waste when you are being tailed by those greedy, flesh eating monsters.
The Hiker Pro Microfilter by Katadyn is one of the best hand pump filters on the market. With its ability to filter 1 quart of water per minute or a full gallon in under 5 minutes of pumping. Not to mention it weighs just 11oz. and that's a blessing when you are carrying your life around on your back.
It will filter out sediment and other contaminants that make water less palatable as well as the harmful bacteria. Drinking stained, gritty water sucks, even during the apocalypse. Don't depend on filtering your water through grass and charcoal. Sure, it works but it not likely to improve the flavor of your water. Also remember to boil your water before drinking as a precaution.