Back in 2011, there was a zombie safe house competition where they featured the best ideas for safe-house protection from zombies. In my honest opinion, the best protection you could give yourself is just by having the basics: shelter free of zombies, weapons, an escape route, and an energy source. Still, these are some cool unique ideas that are fun to check out.
These are the winners of the competition. All images are from: http://zombiesafehouse.wordpress.com/
---
Vagabond Mobile Safe House Device
by Austin Fleming (Source)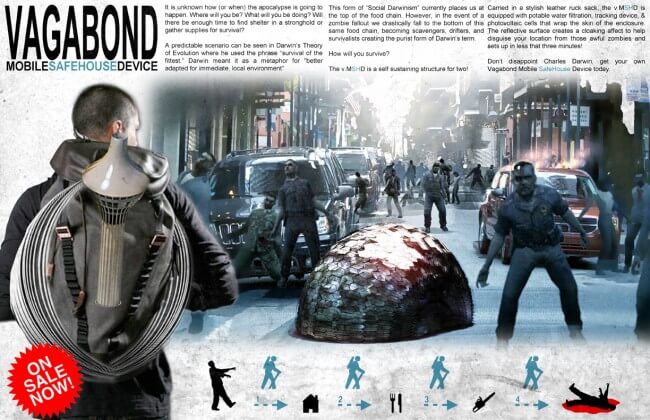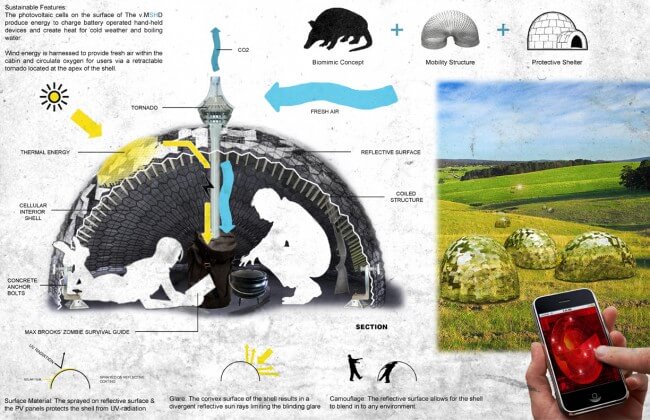 ---
Look.Out.House
by Christina Geros and Matt Jordan (Source)


Since the text is probably to small to read, here it is provided by the creator:
Look.Out.House is a two-bed, one-bath home for the man with a plan. Sited in the cliffs along the Tennessee River, it provides occupants with a scenic view of the landscape and a perfect spot to survey any trouble in the event of danger. Under the most foreseeable hardships of the impending zombie apocalypse, the occupants of the home should be able to sustain a fairly modern lifestyle with very little sacrifice.
The roof of Look.Out.House features a garden, a rainwater collector, cistern, and purifier, along with an array of solar panels – enough to sustain both the home and its inhabitants. Designed in a manner consistent with modern-living principles and demands, the zombie apocalypse will seem like a nothing more than a Hollywood film for which one just happens to have luxurious skybox seating.
Look.Out.House is equipped with a drawbridge – a sculptural gesture of entry and security in one – which extends over the infinity-edge moat and then draws up neatly into the concrete entry stair, holding trouble at bay with the nuance and simplicity of closure. Nestled into the interior mass of the concrete entry stair lies a built-in weapons arsenal.
For everyday living, the home boasts clean and simple lines of built-in storage and a spacious open floor plan. Around the rear of the fireplace one may find the entry to the escape stairwell, which leads directly to the subterranean boat canal. Secured by a steel gate, the boat canal opens into the Tennessee River, which makes its way to the Gulf of Mexico and the open seas beyond.
---
Oil Silo Home
by PinkCloud.DK (Source)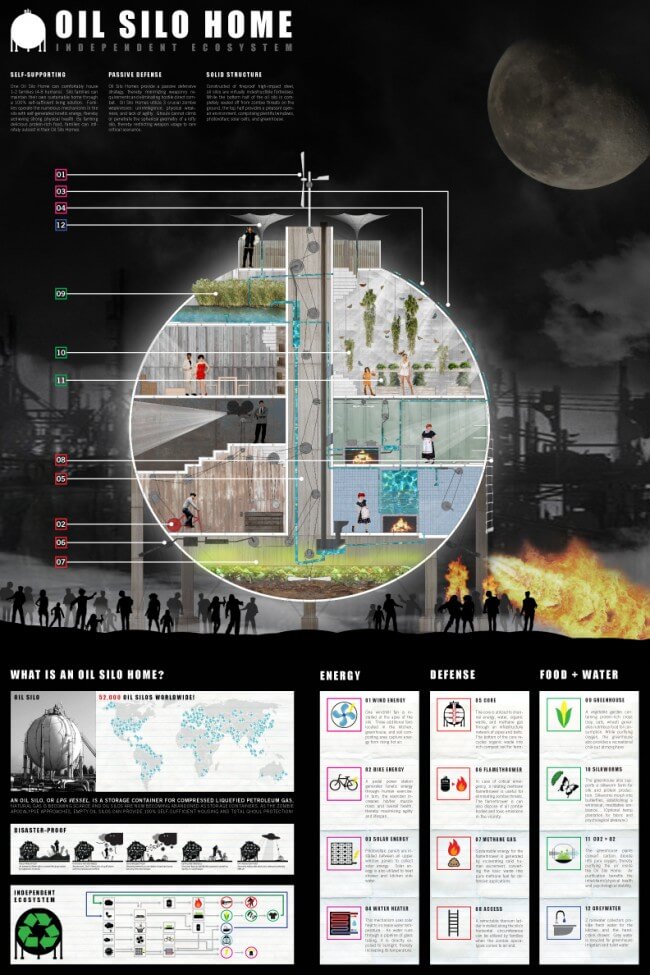 Since the text is probably to small to read, here it is provided by the creator:
OIL SILO HOME
=============
INDEPENDENT ECOSYSTEM
SELF-SUPPORTING
One Oil Silo Home can comfortably house 1-2 families (4-8 humans). Silo families can maintain their own sustainable home through a 100% self-sufficient living solution. Families operate the numerous mechanisms in the silo with self-generated kinetic energy, thereby achieving strong physical health. By farming delicious protein-rich food, families can infinitely subsist in their Oil Silo Homes.
PASSIVE DEFENSE
Oil Silo Homes provide a passive defensive strategy, thereby minimizing weaponry requirements and eliminating hostile direct combat. Oil Silo Homes utilize 3 crucial zombie weaknesses: unintelligence, physical weakness, and lack of agility. Ghouls cannot climb or penetrate the spherical geometry of a lofty silo, thereby restricting weapon usage to rare critical scenarios.
SOLID STRUCTURE
Constructed of fireproof high-impact steel, oil silos are virtually indestructible fortresses. While the bottom half of the oil silo is completely sealed off from zombie threats on the ground, the top half provides a pleasant open-air environment, comprising plentiful windows, photovoltaic solar cells, and greenhouse.
WHAT IS AN OIL SILO HOME?
52000 OIL SILOS WORLDWIDE
AN OIL SILO, OR LPG VESSEL, IS A STORAGE CONTAINER FOR COMPRESSED LIQUEFIED PETROLEUM GAS. NATURAL GAS IS BECOMING SCARCE AND OIL SILOS ARE NOW BECOMING ABANDONED AS STORAGE CONTAINERS. AS THE ZOMBIE APOCALYPSE APPROACHES, EMPTY OIL SILOS CAN PROVIDE 100% SELF-SUFFICIENT HOUSING AND TOTAL GHOUL PROTECTION!
DISASTER-PROOF
Flood/ Water Proof
An inherently Water-tight container firmly grounded by suspension structure
Hurricane/ Tornado Ready
Aerodynamic Shell + Reduction of uplift due to uniform pressures and airflow
Sand/ Blizzard Proof
Geometry prevents accumulation of sand and snow, reducing structural stresses
Earthquake Tolerance
Structural legs provide flexible suspension as well as rigidity to overall design
UFO Abduction Proof
Geometry makes alien abduction attempts extremely difficult
INDEPENDENT ECOSYSTEM
ENERGY
01 WIND ENERGY
One windmill fan is installed at the apex of the silo. Three additional fans located in the kitchen, greenhouse, and soil composting area capture energy from rising hot air.
02 BIKE ENERGY
A pedal power station generates kinetic energy through human exercise. In turn, the exerciser in- creases his/her muscle mass and overall health, thereby maximizing agility and lifespan.
03 SOLAR ENERGY
Photovoltaic panels are in- stalled between all upper window panels to collect solar energy. Solar energy is also utilized to heat shower and kitchen sink water.
04 WATER HEATER
This mechanism uses solar heat to increase water temperature. As water runs through a pipeline of glass tubing, it is directly ex- posed to sunlight, thereby increasing its temperature.
DEFENSE
05 CORE
The core is utilized to channel energy, water, organic waste, and methane gas through an infrastructure network of pipes and belts. The bottom of the core recycles organic waste into rich compost soil for farming
06 FLAMETHROWER
In case of critical emergency, a rotating methane flamethrower is useful for eliminating zombie threats. The flamethrower is can also dispose of all zombie bodies and toxic emissions
in the vicinity.
07 METHANE GAS
Sustainable energy for the flamethrower is generated by incinerating solid human excrement, converting the toxic waste into pure methane fuel for defensive applications.
08 ACCESS
A retractable titanium ladder installed along the silo's horizontal circumference can be utilized by families when the zombie apocalypse comes to an end.
FOOD + WATER
09 GREENHOUSE
A vegetable garden containing protein-rich crops (soy, oats, wheat) generates nutritious food for consumption. While purifying oxygen, the greenhouse also provides a recreational chill-out atmosphere.
10 SILKWORMS
The greenhouse also supports a silkworm farm for silk and protein production. Silkworms morph into butterflies, establishing a whimsical, meditative ambiance. (Optional hemp plantation for fabric and psychological pleasure.)
11 CO2>O2
The greenhouse plants convert carbon dioxide into pure oxygen, thereby purifying the air inside the Oil Silo Home. Air purification benefits the inhabitants' physical health and psychological stability.
12 GREYWATER
2 rainwater collectors provide fresh water for the kitchen and the hand-crank shower. Grey water is recycled for greenhouse irrigation and toilet water.
What do you think about these safe-houses? Have you seen any cool ones worth mentioning? Let us know in the comments below!